Not in the manner Jonathan Martin predicted, but the church and its priests – 'blind Hipacrits, Saarpents and Vipears' – have been shoved abruptly front and centre of crisis. 15 October: Occupy LSX, one of the world's proliferating hashtag movements, converges on the financial district that declares itself, in synecdochic presumption, the City of London. They're aiming for Paternoster Square, the stock exchange, to protest those who brought us to this trembling. Entrance, though, is not a right: the square, like great and growing swathes of corporatized London, once public, these days only pretends to be, and that if you ask nicely. Police block entrance. The protestors set up outside, by a convenient next-door cathedral. St Paul's, Christopher Wren's post-Great-Fire masterpiece. A grassroots response to one cataclysm in the splendid shadow of another to another.

Christ's authorities dither. In 'London's Overthrow', they hold their bibles the wrong way round: in London 2011, they start legal action. Two priests resign from the Cathedral hierarchy. More priestly dithering. The cathedral closes, muttering about safety. The protestors protest that. Ditheration. St Paul's opens again. The archbishop of Canterbury offers careful hedged sympathy for the protestors' concerns. Litigation is left up to the City of London Corporation, the unique, rich, secretive local authority.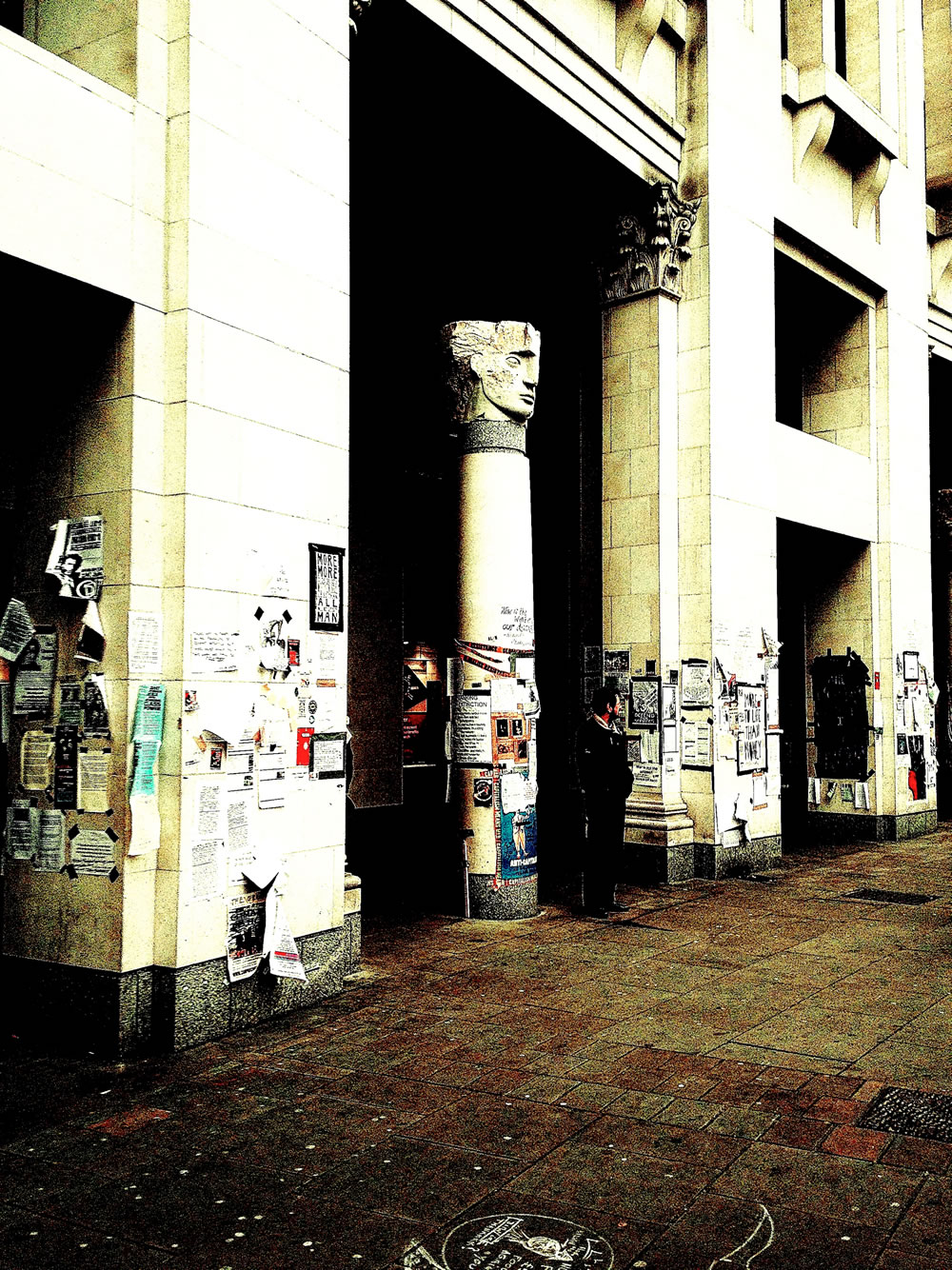 So here is the structure of Occupy Everywhere, by Cheapside, Milton's birthplace, now an anodyne corporate high street, near Cornhill and Threadneedle Street, hubs of finance. Suited women and men pass the tea tent, the tent university with its whiteboard program of talks, the tent library. Some pause to read the patchwork of signs and cuttings fixed on the canvas on local shops. The Revolution will not be Branded. Don't Attack Iran. Stop Protecting Bondholders, Let Banks Fail.

An expensively dressed man in his mid-50s blinks and, with immaculate posh politeness, declines a request for an on-record opinion of his new neighbours. He goes back to reading the walls. Financial Justice is a Gospel Imperative.


A shorter version of this essay was published in the New York Times Magazine, on
4 March 2012
.